Why choose Snap-N-Lock Structural Insulated Panels?
Save Time
Our easy snap in place Snap-N-Lock Structural Insulated Panels save time in construction.
Save Money
Save money on building time costs and energy bills with our durable energy efficient products.
Save Energy
Save energy and help reduce emissions with better insulation and ventilation.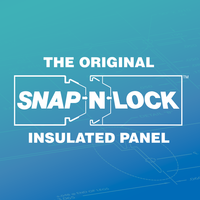 SNAP-N-LOCK™ Steel Structural Insulated Panels
SIPS are high-performance building panels for floors, walls and roofs in residential and commercial buildings. 
A. Combines framing, insulation, and sheathing for exceptionally short construction time. 

B. More energy-efficient than conventional construction. 
C. Foam thickness correlates to R-Value.
more info
Why Structall Should Be Your Insulated Panel Supplier:
Custom Order Entry Program
All documents laser-printed with full item descriptions. Easy to understand – no cryptic acronyms.
Faxed Order Acknowledgements
Customers know what they are getting at what price.
Contact Call the Day Before Delivery
Always customer approval on back orders. No surprises when truck arrives.
Extensive Marketing Support
Pre-Printed Brochures, Customized Flyers, Product Catalogs, Free Product Samples.
Individually Labeled Orders
Each item is labeled by customer and job. You don't have to sort through the material on multiple jobs.
The Only Supplier with:
six color options in panels, five colors in extrusion, and four colors for pans.
Orders are Delivered on OUR Trucks by OUR Drivers
Loads are specially loaded and blocked at our facility and re-blocked after every stop. This results in less damage and confusion with the paperwork.
No Other Distributor Takes the Time and Expense to Protect the Product like Structall
Foam bumpers on both the male and female sides of panels. Heavy cardboard end caps installed for added protection against damage and ease of stacking. Plastic handles to provide a solid grip when carrying. All extrusion and pan orders are stretch wrapped, which helps prevent damage on our truck and yours.
Structall Load and Scan Process
Once your order is assigned with others in the region, it is added to a shipping manifest. The manifests are taken to the loading dock personnel who will begin the loading process. The manifest is then scanned into the Dock Workstation where the contents of your order is assigned a color code. Three piece colored tags that correspond to your order are printed with the individualized serial numbers, as well as extrusion and package numbers, then applied to the appropriate units. As each unit is scanned, the Dock Workstation changes scanned unites from "Unloaded" to "Loaded" status as they are loaded onto the truck. After loading is completed, a Shipping Supervisor will compare the shipping manifest to the Dock Workstation before the truck is allowed to leave.
Testimonials
I have been buying from Structall Building Supply for 18 years and have been very satisfied with their service. Over these years I can proudly say that they maintain a very good stock to meet my needs. The staff have been very helpful with any questions I might have. Thank you Structall.

Daniel R. Gallagher - Dan's Decks & Awnings - San Antonio, TX
This is a letter on how Structall Building Products are an essential part of our business. We, as a wholesaler, rely on our suppliers to help keep our business running smoothly. We have been doing business with Structall for over 20 years. They are very reliable and hold a high quality standard in our industry. The staff there are always very helpful and understanding of our needs. They try and ship everything as soon as possible and the delivery dates are on the day they say. That is helpful to us, so we can relay those dates to our customer. Here at Alumflo, we feel our relationship is more than supplier and customer, we feel it like a partnership. I would recommend them to anybody who wants to become a dealer, you won't be unsatisfied with that decision.

Steve Rodriguez - Alumflo, Inc. - St. Petersburg, FL
Too often these days, good news is slow to spread. I just wanted to make quick mention of how satisfied I am
having done business with you over the past twelve years. From placing an order, to a well-packaged, timely delivery. From accounting, to the warehouse - your staff has always been helpful and committed to seeing my material needs and records requests have been met. Time has passed quickly, and I look forward to working with Structall for many more to come. Thank you for you and your team's commitment to quality and excellent service.

Jim Thomas - AASAP - Round Rock, TX